Zombie Survival Crawl | October 24, 2014 | Fresno, CA
|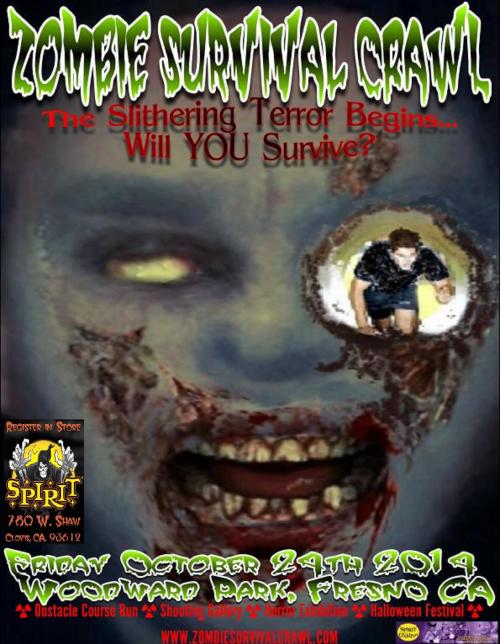 Event Dates:
October 24, 2014
Website:
http://www.zombiesurvivalcrawl.com
Additional Website (Twitter or Facebook):
https://www.facebook.com/pages/Zombie-Survival-Crawl/361276390704230
Contact Person:
Candles & Wine Production
Email:
candlesandwine AT inbox DOT com
City:
Fresno
State/Province:
California
Country:
USA
Submission Deadlines:
Call to artists, crafters, filmmakers, and creative vendors of all sorts with a #horror, goth, or zombie related theme. Contact us via email: candlesandwine AT inbox DOT com
Mission Statement:
We are artists, writers, #film makers, performers, our mission is to produce creative events and visionary entertainment. A Portion of proceeds goes to Smile Train and Spirit of Children.
Event Description (include film screenings or special events):
An obstacle course…with Zombies! A laser tag shooting gallery… with Zombies! And a Halloween #Festival full of surprising frights! Food and Entertainment, Vendors and Activities for all ages.
Other Info (tickets, sponsors, venue, mailing address, etc):
Obstacle Course Registration: Survivor Individual $40 / Survivors Group $30 / Zombies Individual $40 / Zombies Group $30 / Zombie Transformation $20